"Eastwood", Jeogla, 2350
Plenty of scope for further development

524 Hectares

3 Bedrooms

1 Bathrooms

1,125mm
$1,500,000
Eastern Fall Grazing
Located 54 kilometres east of Armidale, at the crest of "The Big Hill" lies "Eastwood", 524 hectares of mixed basalt and trap country set to be further improved by any one with a bit of drive about them. Lay of the land is best described as undulating to hilly.
Approximately 50% of the property has been judiciously cleared, with the remainder under natural forest that has some beneficial grazing. The property has run breeding cattle on fairly undeveloped pastures. There is no doubt the soils and pasture would respond to an improvement program.
Perhaps the most pertinent aspect of "Eastwood" is the property's water security. The Styx River forms the southern boundary whilst the ever faithful Wyatts Creek meanders through the centre of the property. Plus, there are nine dams, a tank & trough and some useful gullies. Water holes along the Styx are simply magnificent, with good access both for stock and for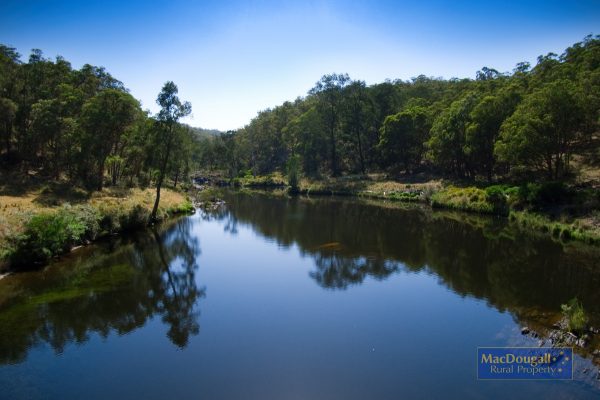 recreational use. Lying in the east at about 820 – 975 metres above sea level at the edge of the tablelands, rainfall is boosted from an orographic effect.  It would be a bleak day indeed if "Eastwood" ever ran dry. At that elevation, winter frosts tend to be a little less severe than further to the west.
Infrastructure
Infrastructure on "Eastwood" is in top shape. The three bedroom weatherboard home has been looked after over the years. It has two timber-floored verandahs, a sun room, open plan kitchen, lounge room which leads on to the main verandah plus an office. The house is situated near the entrance to the property for easy access.
Nearby is a two room workers cottage, a machinery shed, chook pen, loading yards and disused mill shed. A second set of cattle yards are located in the centre of the property.
Fencing is in good order with 12 paddocks and boundary secured. There are a number of well constructed tracks throughout the property. Some handy gravel is on site.
Summary
There is no doubt that "Eastwood" is a pleasant place to live, with plenty of scope to increase primary production. The rainfall, soils and water security each underpin a sound property. The river, terrain, location and tranquility of "Eastwood" would also be of interest to those considering including tourism among their enterprises.
"Eastwood" is For Sale at $1,500,000.
Please contact Graham MacDougall on 0412 220 302 for further details or to arrange an inspection.
Further details:

(02) 6772 4200

0412 220 302

graham@macdougall.com.au